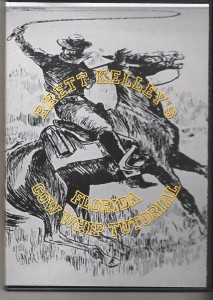 2 disc set is $25.00+ shipping!! U.S. orders only!
Would you like to make your own nylon cow whip? There's no need to track down a local whipmaker and beg him to help you learn, just order my DVDs and I'll show you how. To complete the project, you will need some basic supplies and the ability to do the standard "whipmakers plait" up to 12 strands.
Currently Unavailable
These whipmaking kits offer my DVD students the essential tools needed for the project of constructing a whip without having to shop all over the web to find them. Kit Includes:
1 Cow Whip Handle [sometimes outsourced]

3 ft. Sinker Cord
2 Lacing Needles
2 Hemostats
1 Fid
1 Woodburning Tool
1 500 ft. Spool of Coreless Nylon Paracord
Thanks for making a great tutorial DVD. Your DVD kit combo is a real complete package. It along with and Ron Edwards book gave me everything I needed to make my first nylon supersonic whip. Attached is a picture of my first 6′ cow whip. It cracks beautifully and can't wait to start my next whip.

- Brian. Geneva, FL.
Please note what this DVD tutorial is NOT:
It teaches how to make a 6ft Florida cow whip ONLY. Not bullwhips or Aussie stockwhips! You can use much of the information here for making other whips, but this video is specifically a FLORIDA COW WHIP video tutorial.
This video does not teach you how to plait. At the time I made this video, another seller was selling a basic plaiting DVD, so I felt no need to include that. You really need to be able to do a whipmaker's plait from 4 to 12 strands to complete this project.
It does not answer every possible question about making whips. After 22 years of plaiting, I still don't have all the answers. All I do here is show you my method for making the best cow whip that I knew how to make at the time of filming. If you have questions about making

cow whips

after buying this DVD, feel free to ask. Questions about bullwhips or stockwhips will be ignored. I get too much email to be able to answer every question about other kinds of whips. Sorry.
This is not a professionally produced Hollywood style project.

You're purchasing information, not stellar production value

. It's a homemade video and I had no prior experience doing this sort of thing. What it lacks in production value, I think it makes up for in information.
And finally, I make no guarantees concerning the success of the student attempting the project. Most students have had no problem completing the project, some have. It depends on your skill level alone.
If you understand the points above and are cool with that, then I wholeheartedly encourage you to order the DVDs!
Required Supplies you will need for this Cow Whip Project:
1. 150ft of nylon 550 or 650 parcord (at least 35 ft of this amount can be different color for making whips with 2 colors)
2. 3 to 4ft of 3/8" sinker cord. (or coreless paracord that you can slide BBs down inside of…)
3. Scissors
4. Yard stick
5. 2 hemostats and sealing iron (wood burning tool).
6.  (1) Awl and (2) 5/32" Perma-lock lacing needles
7. Daisy brand Quicksilver airgun BBs.
8. Disposable lighter
9. A cow whip handle. (Can be hand carved if you don't have a lathe)
10. Book: How To Make Whips, by Ron Edwards