OVER 23 YEARS EXPERIENCE HANDCRAFTING NYLON WHIPS:
SPECIALIZING IN NYLON BULLWHIPS, NYLON SNAKEWHIPS, NYLON STOCKWHIPS, AND FLORIDA COW WHIPS


In 1991, I began plaiting whips as a teenager during the time I lived in central Florida on the ranch of my great-grandfather, L.R. Bronson. I specialize in making Florida Cow Whips, nylon bullwhips, nylon snake whips, and nylon Australian stockwhips. My whips can be found all over the U.S.A. and in 27 countries around the world. In 2001, I took my synthetic whips to the world wide web. CowWhips.com is the oldest site on the web established for the sole purpose of marketing nylon whips. If you're looking to buy a high quality nylon whip from one of the most trusted names in the synthetic whip business, you've come to the right place.

 Founding Member of: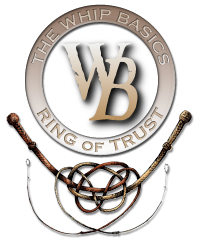 The WB Ring of Trust is a group of whip makers with integrity.
Our goal is to create transparency, reliability, and the best customer service available.
Rhett is a one of a kind artist with whips! I used Rhett for the creation of an original piece for a theatrical production and he produced a beautiful whip to my specs, within budget and on time. I would recommend Rhett's work to anyone looking for high quality craftsmanship!

- Cdavid Cottril, Assistant Property Master on NBC's GRIMM
I just got the [bullwhip] about an hour ago, and man am I impressed.  This being my first whip I wasn't sure what to be expecting but I had read up on how to do a couple of cracks and was able to do them successfully with the new whip.  It's got a good weight to it, love the color, and just couldn't be happier with it.

- Mike, Texas
Received the whip today, have to say its excellent, you are a master whip maker. Took it out and gave it a go. After its broken in, it will be the best nylon whip I have..

- Trevor, Australia

Member of the Australian Plaiters & Whipmakers Association