*** No longer accepting custom orders for these whips.***
4 feet length now available!
Nylon bullwhips are constructed with an integral steel handle, weighted with a BB filled sinker cord core and two plaited bellies all covered in a 16 plait overlay. The transition between the handle and thong is reinforced on each belly with a special wrapping made of artificial sinew. This makes for a very nice transition and a good handling whip.
Whips can be customized with different knots, colors, and patterns to suit your taste. Standard handle length is 8″ with 12″ being the maximum length I will make at this time. Fancy plait work on the grip and silver collars/ferrules are also available as upgrades.
My 16 plait bullwhips is currently in use in The Greg Frisbee Show and the 2B Ranch Wild West Show featuring Cowboy Bruce Brannen.

STANDARD COLORS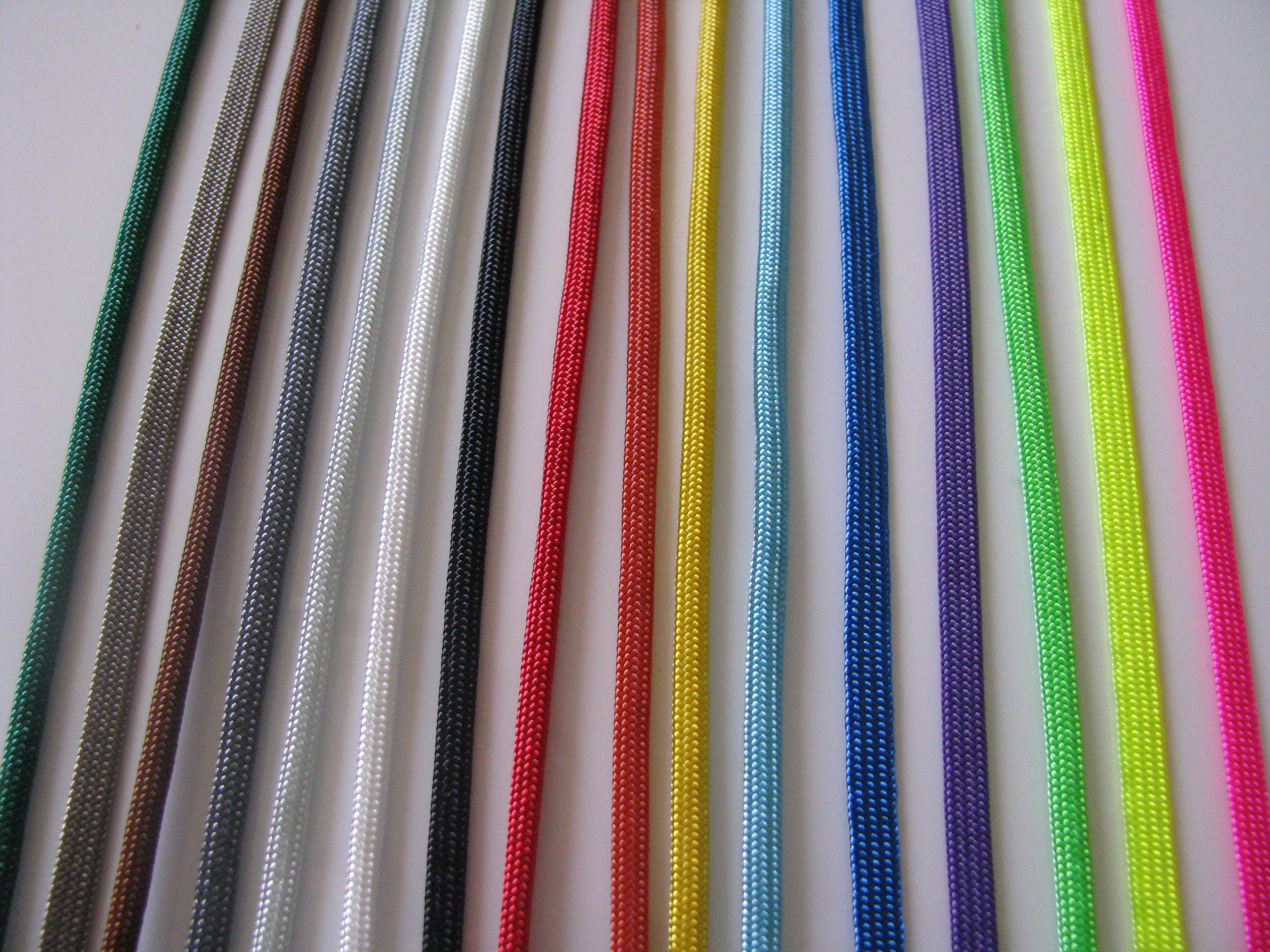 WHY NYLON?
My nylon cow whips are made of weatherproof #650 nylon parachute cord. Nylon whips are affordable and stand up to conditions that would be bad for leather whips. Nylon whips are less costly than whips made from natural materials, and do not require as much care. If you are into whip cracking as a hobby and use natural whips, you sometimes have to wait on the right conditions to crack those expensive whips, but not with these! You can crack them when YOU want to crack them. I don't think twice about cracking my whips in the rain or the morning dew!
WAX
When I finish constructing a nylon whip, I always dip it in paraffin wax to help preserve the nylon threads from wear. Waxing also helps to add weight, density, and keeps moisture out of the whip. It has been my experience that once a nylon whip is waxed, it's always in there. Though some excess wax will melt out on hot days and work out with use, the wax will not totally leave the whip. I've read where some folks have gotten the idea that dipping a nylon whip in hot paraffin can somehow weaken the nylon fibers, but in all my years in making and using nylon whips, I have never seen any evidence of that. After a nylon whip has been properly waxed, water will literally run off it the same way it does a duck's back.
MEASUREMENT
 The bullwhip is assets/measured from the handle to the end of the twisted end of the thong. The fall is not counted for this style of whip either.

WHIP CARE
Though nylon whips are very durable and weatherproof, it is important to take care of your new whip. Nylon is a man-made material that is very durable and resistant to the elements and damage caused by vermin. However, nylon whips are not indestructible and do require some degree of care. I do not recommend using your nylon whip on concrete, gravel or hard dirt surfaces such as packed clay. This will destroy the fibers of the nylon and give it an unattractive fuzzy appearance.
As you use your whip, always watch for knots in the cracker and fall. Once a fall or cracker has a knot that been cracked into place, it is almost impossible to get the knot out. Do not leave your whip in the sun for long periods of time. Over exposure to the Sun destroys nylon fibers and will lead to an early retirement for your whip.
Light colored whips often get dirty with use. I have heard various ideas on whip cleaning such as spot cleaning using laundry detergent and water. I know one whip cracker who puts his nylon whips in a pillow case and throws them in the washing machine. I would suggest extreme caution if using that method!
If your whip is ever in need of repair please contact me.
NOTE: Whips are normally constructed on a first come, first serve basis. When ordering, you will be placed on a waiting list.
To order, email me or fill out the online order form below. Once you submit your online order, you will be transferred to Paypal where you may check-out securely.