Item discontinued until further notice
The Rhett Kelley line of  cow whip handles are made from Ash and turned in lengths from 12 to 14 inches.
All whip handles sold are turned by Rhett Kelley personally. Prices for exotics and laminates will generally include a turning fee of $25.00 plus the cost of the wood and shipping. Call or email for a quote as exotic wood prices and availability may vary. Below is one example of an Ash handle I've made. Shapes and designs may vary. You can see several examples of my handle work by browsing the cow whip page and exotic wood gallery.
Please allow up to 2 weeks for delivery due to demand for my products.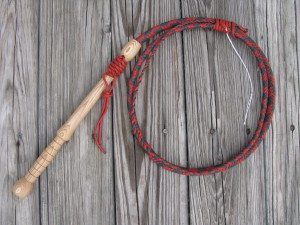 NOTE: Handles are constructed on a first come, first serve basis. When ordering, you will be placed on a waiting list.